Outlaw Bandana
Out of the dust and sun ride the dirty dozen! Look out wild, wild west! The outlaws are coming!
Click on images for a larger version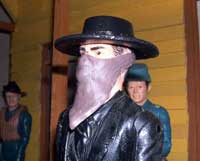 ---
These over-the-head, one piece bandanas are made from a soft, stretchable polyurethane!Long and flowing, these scarfs can keep out dust and the prying eyes of lawmen!
---
They are formed on the inside to lock over the ears and nose of your favorite outlaw. They ride low enough not to interfer with the hat.Even pulled down these look great!
---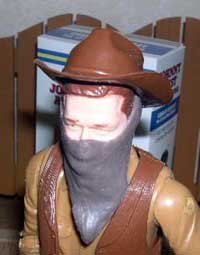 Make anyone, even Johnny, an outlaw!