Frenchie - The Legionnaire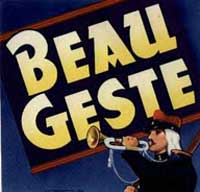 I loved the movie Beau Geste as a kid - What a romantic vision of the valiant French Foreign Legion and the heroic Legionnaires!
There's my inspiration, and here's the result:
Click on images for a larger version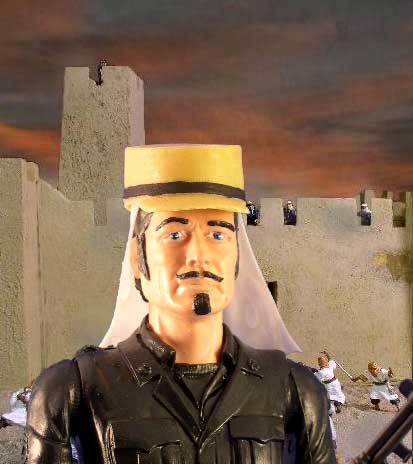 ---
Body Decision
I bought a group of the 1997 Stoney bodies from Mike of MarxFiles.com at a great price. I specifically wanted this dark green / black body for this project. Although his coat doesn't have 'tails' it is a nice looking uniform. I assembled the body with new and recycled rivets / springs and reinforced the plain plastic loops with 1/8" eyelets from the craft store.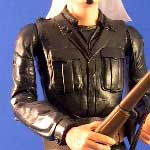 ---
Head Work
The head is a custom created by Karen of Poseable Dolls. I just had to tell her "I want a french looking Johnny with black hair and a pencil thin moustache". This is what I got!
The head is perfect. It just screams "LEGIONNAIRE"!
---
Headgear and Clothes Work
This Kepi is a complete custom. I cast a copy of the Stony fatique cap and then added an exterior band around the rim. I remolded that creation and cast it in a soft, mustard colored plastic.
I then created a cloth neck covering by soaking cloth in a polyurethane solution and glueing it into the inside of the hat.
I finished off the kepi by painting the black band around the rim.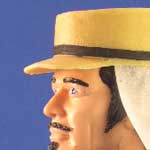 ---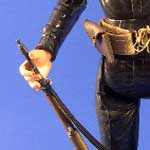 Accessories
Frenchie still needs a lot of work on his accessories. I had a webbelt and rifle laying around but they are not the correct period. I'll get a correct rifle for the FFL of 1885. I aslo want to get a good pack and bedroll. Then the figure will be as complete as I want to make it.
---
Final
If you have any comments on my figure, please
let me know
.