Cherokee Hauptling

Der bewegliche und vollausgerüstete Indianer
I'm always interested in finding out more about the distribution of the Marx figures. Here's a unique figure that was produced in Germany by the Viebroflex plastics company. (need more research on the company here)
I purchased this figure on ebay from a seller in the Neatherlands in Janurary 2006. Until this date I had only seen one other example of this rare figure and the picture it had was terrible. The figure itself was virtually destroyed. Now that I have mine, and I compare those old pictures to this figure, I'm convinced that the previous one was actually a US Chief Cherokee in the Hauptling box. There are some pretty significant differences between the German production and all other countries.... Read on for more information. The seller of this figure indicated that they had sold a similar 'cowboy' figure some time ago. I've never seen any other figure by Viebroflex so I'm not sure but it would make sense that they would have made at least a cowboy to go with this indian.... If you have more information on these figures or the Viebroflex company in Germany, please
let me know
. As you go through this page, click on the images to get a larger, full view version.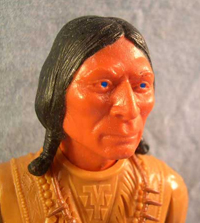 ---
Box
Here is the full box photo. As you can see it is a direct copy of the UK 'Wagon Train' Chief Cherokee box. Based on this box design I'm extimating that this figure was produced in the 1968-1970 time frame. The top of the box front gives you Chief's German title:
"Cherokee Häuptling"
.
The word Häuptling translates to Chieftain, so the literal translation of this title is "Cherokee Chieftain"The subtitle:
"Der bewegliche und vollausgerüstete Indianer"
translates to: The mobile and full[y]-equipped Indian.The text under the subtitle reads:
"Volle Gelenk-Konstruccktion! Man kann seine Knie, seine Arme, Handgelenke, Beine biegen und seinen Kopf drehen! Er kann stehen, sitzen, knien, ein Prerd reiten!"
, which means: Full[y] joint[ed] construction! One [You] can bend its knees, its arms, wrists, legs and turn its head! It can stand, sit, kneel, and ride a horse!
On the bottom left of the box front you see the company's logo and the text Nr. 1723 which I think is their stock number for this figure. The Viebroflex, inc. (gb) company of Germany made plastic toys in the 60's. I have found very little information about this company on the 'net so I'm not sure if they are still in business or not.
On the bottom right of the box front you find: "Ca. 28 cm groß Komplett ausgerüstet mit seinen eigenen Waffen und Geräten zum Fallenstellen!" which roughly translates to: Approximately 28 cm [12 inches] high, completely equipped with its own weapons and devices to trap places [trappings] !
The box ends are identical with a different drawing of the Chief's head and repeating the title and sub-title. No other markings or dates are on the box ends, so dating this figure is very difficult.
The left side of the box shows Chief in various poses and the words"Waffen Jagdmesser mit Scheide · Tomahawk · Schild mit Riemem · Büchse · Bogen und Pfeile mit Köcher · Kriegskeule · Brustschild sowie Geräte zum Fallenstellen und Ausrüstungsstücke!" which babelfish roughly translated to: Weapons Hunt measurer with sheath · tomahawk · sign with Riemem · can · elbow and arrows with koecher · war club · brustschild as well as devices to trap places and equipment stucco! which I think means: Knife with sheath · Tomahawk · Shield with strap · Rifle or Spear · Bow and arrows with Quiver · War club · Breastplate and other indian trappings and equipment!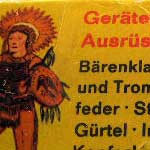 The right side of the box shows more Chief poses and the words: "Geräte zum Fallenstellen und Ausrüstungastücke Bärenklauen-Hasband · Rassel · Tamtam und trommelstock · Friedenspfeife Ad??? Feder · Stirnband · Zeremonienmaske · Gürtel · Indianisches Geld · Büffelhorn- Kopfschmuck · Tasche mit Riemen · Voller Kopfschmuck · Satteldecke und Sicherungsseil · Indianischer Pferdezügel! which babelfish roughly translated to: Devices to trap places and pieces of equipment [Trappings and Equipment] Baerenklauen Hasband · rattle · Tamtam and drum stick · peace-pipe Ad??? Feather/spring · front volume · ceremony mask · belts · Indiani money · buffalo horn head decoration · bag with belts · full head decoration · saddle cover and safeguard rope · Indiani Pferdezuegel! which I think means: Bearclaw Necklace · Rattle · Tom-Tom (Drum) and drumstick · Peace Pipe · Eagle Feather Headband · Ceremonial Mask · Wampum · Buffalohorn Headress · Parfleche with strap · Full Headress · Saddle Blanket and cinch · Hackamore!
Click on images for a larger version
---
Figure
Cherokee Häuptling is slightly different then his US, Canadian, Mexican or British cousins. The shoulder loops are non-reinforced plastic like the early US production. The hands are open.
This first thing that jumps out about Cherokee Häuptling is that his eyes are a very bright BLUE! The plastic used for the head and hands is different than what the other countries used. It is a little more orange and a little harder.
The body appears to have been made in the US as it has the US mold ejector pin markings. This would make sense so that the Viebroflex company did not have to purchase and maintain the molds for the figures... But what US plant made them and shipped overseas?? Of course this is just speculation. The Viebroflex company could just as well have used the US ejector pins instead of machining their own...
Regardless of where the body parts were manufactured it is pretty plain that the parts were assembled in Germany. All the rivets (elbow, hip and knee) are completely different than any other countries rivets. They are brass colored with a slight depression in the head and are unpainted.
Click on images for a larger version
---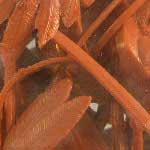 Accessories
The accessories also appear foreign made. The type and quantity is the same as the US Chief's but the plastic is completely different. They are all made from a plastic that is half way between the soft and hard US accessories. Very similar to some of the plastimarx semi-rigid accessories. These bend a little and can be worn but are not as soft as the normal accessories. This was probably cheaper to do than make seperate hard and soft pieces. Therefore I believe these were actually molded in Germany.I'm sure this sealed bag is not original as all the pieces are off the sprues and some were left out and are on the figure. Also if you look closely you will see a rifle holster/boot in a different color - Awww... Now, to get the German Johnny! - The quest is on!!!!!!!!!!!!!
Click on images for a larger version
---
Manual
The instruction manual is completely in German and does not have any date indicators on it. It is made from a very thin paper with black ink. Some of the words are the american word as if they were the same in German and English such as 'Knife'. When I have a little more time I'll show the actual words used on the manual.
Click on images for a larger version