Victorian Riding Lady

Stock no. 2099
The first of the true, non-produced prototypes. Little is know about this figure. Possibly designed for UK issue only (similar to the Black Knight). But I doubt that. Take a look at the Riding Crop accessory prototype in the bottom picture. It clearly lists a us part number 'PL-1508' and a US formated date ' 1-27-71 '. I believe this may have been designed here in the states, with a possible test market run in the UK but it never made it past the production sample stage.
Another tantalizing item is the Black Beauty Horse. Issued in the UK in the 70's, this horse came with caramel English riding tack and silver plastic stirrups.... Just the kind of horse a Victorian Riding Lady would need, don't you think. In the 1971 Marx product catalog it lists this horse as Tuppence.
If anyone knows the real story behind this unique figure, please let me know. Thanks!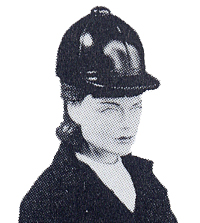 ---
Production Sample
We do know that this figure was produced. At least far enough to have the molds made for the Head/hands, figure and accessories. This shot from the Marx 1971 Catalog shows her mounted on a regular bay Thunderbolt with normal western tack. She appears to be wearing a cloth riding jacket over her molded white torso (boots are likely painted black for this photo op). Marx did use cloth accessories so this is possibly a test shot of that jacket. The hats were molded/test shot and some of them exist today
Click on images for a larger version
---
The Sculpts
From the Springday ebay auction.
Click on images for a larger version
---
Accessories
Here's her riding crop with the PL number and date. Also here's the Black Beauty horse as produced in England. This likely would have been her horse.