Fighting Eagle
Stock No. Unknown
Aguila Salvage
El Guerrero Cherokee
[Savage Eagle - The Strong in War Cherokee
Fighting Eagle]
Part of the Lo Mejor Del Oeste [The Best (Thing) of the West] series. This is the first and only real 'series' of figures Plastimarx produced. They did not produce a Fort Apache Fighters or Johnny West Adventures series.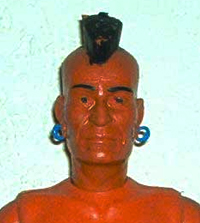 ---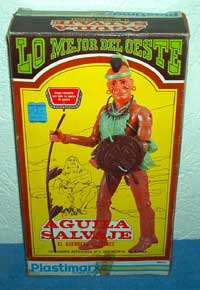 Box
The Plastimarx version of the Best of the West series boxes are well made with vivid individual graphics. Here you see the front, top and side of the Fighting Eagle box.
Pictured on the box is a US Fighting Eagle from the JWA series. This would place the time frame of 1975 for these series of figures.
Click on images for a larger version
---
Figure
Plastimarx's version of Fighting Eagle was made in a orangish flesh color similiar to his American cousin. His hair band and earrings are blue and he has no face paint.
Here again, is an example of the box art being very different from the actual figure and accessories.
The figure in my collection is much more pink in color - not sure if this is the plastic fading over the years or if he's another color variation.
Click on images for a larger version
---
Accessories
All indians came with the same hard plastic accesories (silver), Fighting Eagle and Chief Cherokee have the same soft accesories in a nice rich, dark brown, Geronimo has the same soft ones but added the yellow head band.
Click on images for a larger version