Sheriff Garrett
Stock No. 2085
Bobby Bueno
(sheriff garret)
El Hombre Bueno Del Oeste
[Good Bobby - Sheriff Garrett - The Good Man of the West
Sheriff Garrett or Thomas Goode]
Part of the Lo Mejor Del Oeste [The Best (Thing) of the West] series. This is the first and only real 'series' of figures Plastimarx produced. They did not produce a Fort Apache Fighters or Johnny West Adventures series.
Click on images for a larger version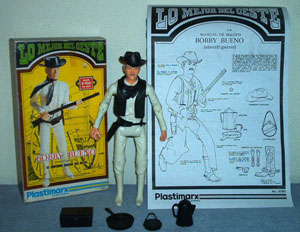 ---
Still waiting to get my hands on better box pictures.
Box
The Plastimarx version of the Best of the West series boxes are well made with vivid individual graphics.
Pictured on the box is a Canadian Thomas Goode from the Best of the West series. This would place the time frame of 1974 for this figure.
---
Figure
Plastimarx's version of Garrett or Goode is quite different from his American or Canadian cousins. The standard grey haired Garrett head was used on a white Garrett body. Before these figures started to appear on eBay in the early 2000's, this figure was thought to be a prototype or test shot of the American Garrett. Plastimarx used shiney silver rivets.
Click on images for a larger version
---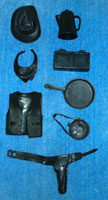 Accessories
Bobby's accessories are the US cowboy hard and soft sets molded in black plastic. I have seen Bobby with Dark brown accessories as well.
Click on images for a larger version