Johnny West
Stock No. Unknown
Johnny West
I'm looking for better pictures and information on the original Johnny produced by Plastimarx.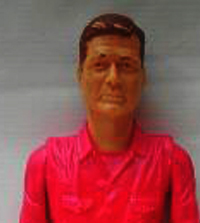 ---


1st Version
The original Plastimarx Johnny is red. I've seen a few but am still trying to get a decent photo, these photos make him look like he was molded in hot pink ;-(. The true color is a much more muted red.
---
2nd Version
Here are a couple of pictures of the medium blue Plastimarx Johnny. He was made for the Jeep set.
This version of Johnny came with mustard colored hair and sometimes brown painted boots.
---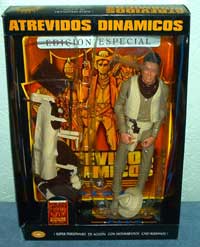 3rd Version
Reproduced in 1996-1997, Johnny was packaged in a small window box
He was made of grey plastic and his accessories were molded in a hard plastic. Made the chaps almost impossible to actually put on.
---
4th Version
The 2000-2001 version of the Mexican Johnny is packaged in a large window box. This time his body is a mustard/tan color but the accessories are still made of the hard plastic.