Sargento Stony - Medic
Stock No. Unknown
Sargento Stony
[Medic]
The white Stoneys came next. (3rd in sequence?)
Not sure yet what box they came in but it is likely that they were portrayed as medics. One rumor is that two white figures and one green figure came packaged with a strecher. More later, I'm sure! Stay tuned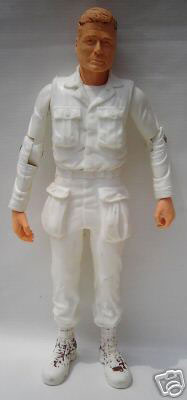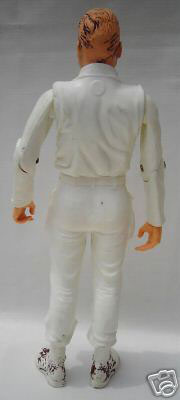 ---
Figure
The white figures have many variations. Plastimarx had a nice tendency to paint some parts of the figures - notably the shoes/boots.
In Stony's case, the boots were painted either black or brown on different body colors. I have one figure that has the buttons and belt painted as well.
The most common white figure is the one with tan skin and no beard. Plastimarx also produced this figure in a bearded version. Luis thinks that the bearded figure came in a 5 figure pack (with 4 ordinary white Stonys and accesories), the box was made of plain brown cardboard without graphics.
---
Figure
Here he is in an african-american skin tone with black hair
---
Figure
This medical Stony was also made in a hispanic version with a nice brown skin tone to the standard head and hands. The skin tone is lighter than the african-american figure above and he has brown hair.
From Luis: "As for the dark skin one, a friend of mine (which is about 50 years old) told me that he remember it from the "foreign legion" series (as well as the beige and blue ones). "
This set shows our medic with dark silver and white accessories!
---
Accessories
As I mentioned before, the Stony accessories came in many colors.
Here you see some pieces of the White, Blue, Black and Brown