Cowboy Black

Ref No. 257
Cowboy Black
Suay Sport issued Cowboy Black in two distinct Versions (distinguished by the accessory set).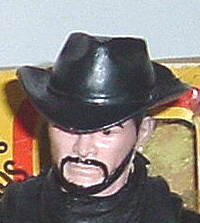 ---
Box
Unlike the other figures who were issued in a remake of the UK Fireball box art, Suay Sport issued this figure in one box. Perhaps indicating that this figure was the last of the series and had the new box art style before it was concieved. The Suay Sport box for Cowboy Black is yellow with reddish orange trim and side panels and is identical to the Cowboy Kid box except for the name and color of outfit.
The front sports a stylized drawing of a old wooden sign nailed to a pole with a longhorn cow skull on top.
The back of the box shows a great drawing of Cowboy Black holding a smoking colt in his hand - Draw!
The left and right box sides show drawings of the accessories included with the figure and the REF. number along the bottom edge.
Click on images for a larger version
---
Figure
The Suay Sport Cowboy Black is a black figure.
The head and hands are more pink than the UK Cowboy Kid and the hair is painted black. The moustache and beard are painted on.
One of the major identification clues about the Spanish figures is the rivets / clevis pins. They do not have a rounded head, instead they are hollow and rounded over to grip the plastic like the inside of the elbow rivets on US figures. There is a picture of this on the Indio Mohicano page.
Click on images for a larger version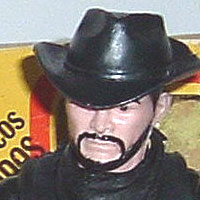 ---
Accessories
The Cowboy Black soft accessories come in two versions
1. All Black as seen in the first picture
2. All Tan as seen in the second picture Both sets come with a red neckerchief. The hard accessories are always silver. Here is the accessory list as it likely appears in the manual:
Sombrero [Hat]
Chaparreras [Chaps]
Cinturón cartuchera con pistolera [Belt with cartridge holder and holster]
Pistolera [Pistol]
Pañuelo de cuello [Neckerchief]
Cantinplora [Canteen]
Chaleco [Vest]
Cuchoillo [Knife]
Cafetera [Coffee Pot]
Bote de café [Coffee Cup]
Sartén [Frying pan]
Caja fuerte [Strong box]
Hierros de marcar [Branding Irons]
Espuelas [Spurs with straps]
Rifle [Rifle]
No derringer was issued with the Spanish cowboys
---
Manual
Interestingly enough, Cowboy Black is not listed on the standard manual front shown here. The manual for all figures is a two sided glossy print. It measures 9 3/4" x 13". On one side you see the standard set of figures in color photos and on the other side you see the line drawings in dark blue ink of the accessories for that figure / piece.
I can only assume that a version of the Cowboy Kid manual exists with a name change.
Click on images for a larger version