Chief Cherokee

Ref No. 251
Indio Cherokee
Suay Sport issued Chief Cherokee in two distinct Versions.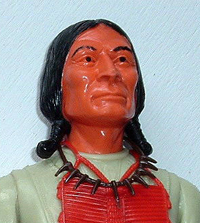 ---
Box
The first issue box is an exact copy of the UK Indian Cherokee (Sunburst/Fireball) box with the Suay Sport information at the bottom between the figures legs. This was likely a temporary solution until they could have a new box printed. The second issue box is the 'Window' box.
Click on images for a larger version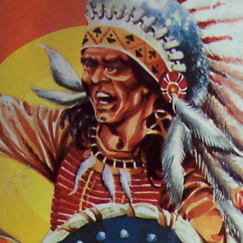 ---
Figure
The Suay Sport Indio Cherokee figure is very close in color to the UK Indian Cherokee figure - a nice muted cream color.
The head and hands seem almost identical to the UK version and the hair is painted black.
One of the major identification clues about the Spanish figures is the rivets / clevis pins. They do not have a rounded head, instead they are hollow and rounded over to grip the plastic like the inside of the elbow rivets on US figures. There is a picture of this on the Indio Mohicano page.
The picture to the left shows a comparison between the UK Chief on the left and the Spanish Indio on the right.
Click on images for a larger version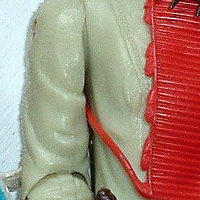 ---
Accessories
Indio Cherokee Accessories
The Indio Cherokee soft accessories come in a complete indian red set with added soft shield with blue insert and colored eagle feather headress. The 'soft' accessories are not as soft as the US vinyl, more like the Mexican Plastimarx produced vinyl. The hard accessories are dark brown and consist of the normal indian hard pieces.
---
Manual
The manual for all figures is a two sided glossy print. It measures 9 3/4" x 13". On one side you see the standard set of figures in color photos and on the other side you see the line drawings in dark blue ink of the accessories for that figure / piece.
I don't have this manual yet.
Click on images for a larger version