Fighting Eagle

Ref No. 252
Indio Mohicano
Suay Sport issued Fighting Eagle in two distinct Versions.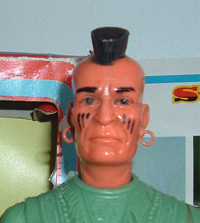 ---
Box
The first issue box is likely an exact copy of the UK Indian Fighting Eagle (Sunburst/Fireball) box with the Suay Sport information at the bottom between the figures legs. This was likely a temporary solution until they could have a new box printed. The 2nd Edition Suay Sport box for Indio Mohicano is red with blue trim and green side panels.
The front sports a stylized drawing of a old wooden sign nailed to a pole with an indian lance and shield behind it.
The back of the box shows a great drawing of a 'Mohawk' indian firing his bow and arrow.
The left and right box sides show drawings of the accessories included with the figure and the REF. number along the bottom edge.
Click on images for a larger version
---
Figure
The Suay Sport Indio Mohicano is a dark green (very similar to the UK Fighting Eagle color). The first picture shows the comparison between the UK Fighting Eagle on the left and the Spanish Indio Mohicano on the right.
The head and hands are indistinguishable from the UK version and the hair is painted black.
One of the major identification clues about the Indio Mohicano is the rivets / clevis pins. They are not like all the other rivets / clevis pins. They do not have a rounded head, instead they are hollow and rounded over to grip the plastic like the inside of the elbow rivets on US figures. The picture to the far right shows this open rivet.
Click on images for a larger version
---
Accessories
The Indio Mohicano soft yellow accessories are identical to the UK soft yellow accessories. The rest of the soft set is made from the same red vinyl as the Chief Cherokee Spanish set. The hard accessories are always dark brown. Here is the accessory list from the manual:
"Forma de colocar
el escudo sobre
el brazo izquierdo"
[ Form to place
the shield on
the left arm ]
Rifle [Rifle]
Lanza [Lance or Spear]
Arco y flechas [Bow and Arrows (3 shown)]
Cuchillo y funda [Knife and Sheath]
Hacha [Tomahawk]
Porta flechas [Quiver]
Banda de cabeza [Headband (3 feather)]
Collar garras de oso [Bearclaw Necklace]
Escudo "Forma de colocar
el escudo sobre
el brazo izquierdo"[Shield][ Put
the shield on
the left arm ]
Fajín [Beaded Belt]

The red pieces are not listed on the manual.
---
Manual
The manual for all figures is a two sided glossy print. It measures 9 3/4" x 13". On one side you see the standard set of figures in color photos and on the other side you see the line drawings in dark blue ink of the accessories for that figure / piece.
Click on images for a larger version