Johnny West 50th Anniversary Celebration
The Story
Born on March 31st, 1965, Johnny West, Thunderbolt and Chief Cherokee are the first fully articulated action figures made by the Louis Marx Toy Company. This set the stage for the next 50 years of imagination and play by children of all ages. Johnny and his friends came with a full set of accessories for hours of fun on the open plains!
For the next several years, the Johnny West family grew fast! With his wife Jane, their children; Janice, Jamie, Josie and Jay they ran the Circle X Ranch and cared for Jane's horse Flame and the ponies Pancho & Thundercolt. In the late 1960's Johnny West went Global! Initially Marx would ship the figures to the country and they would put them into their own box designs. Later, Canada, the United Kingdom, and Mexico were manufacturing their own figures with different colors and names. In 1967, the Fort Apache Fighters series was made. This series introduced a whole new set of figures and accessories. Early concept sculpts for TV's James West and Jesse James were used for Capt. Tom Maddox and Sgt. Zeb Zachary. General Custer (Based on actor Wayne Maunder) joined in 1968. Johnny and the rest of the West family were going strong in these years and saw the introduction of Sam Cobra and Sheriff Garrett in 1972 and 1973. In 1974, Louis Marx no longer ran the Marx Toy Company. The new owners "Quaker Oats" rebranded all the figures into a single series called: The Best of The West. Although this series only lasted a year, this box is perhaps the most remembered design from Johnny West. In 1975 (the last year of US production) the Johnny West Adventures series was introduced. With new colors and accessories and the first African American figure – Jed Gibson. Johnny and Sam were also made "Quick Draw". Johnny lived on a little longer in the foreign markets but by 1978 world-wide production had stopped. Except for some limited production in Mexico, the original molds sat idle for almost 20 years. In 2000-2001, Johnny rode again through the MarxMint figures. Shortly after that, a new line of Johnny West toys were produced by the Fort Scott, KS company "Circle X Ranch" and brought many old and new fans to the toy shelves again. In 2015, in celebration of Johnny's 50th year, a group of avid collectors produced this very limited edition 50th Anniversary Johnny West
May he ride forever!
---
A New Johnny
In November of 2014
, James Wozniak of
Classic Recasts
contacted me with an idea to do 12 inch figures from the old PlastiMarx molds. He had been selling some recast Johnny and Stoney pieces but wanted to up the ante a bit. We talked about doing an exclusive Sam Cobra for Stewart's Attic and he went off to investigate..
Fast forward a couple of months and many phone and IM conversations later and he came up with the idea to do a 50th Johnny West figure.
In Mid January, James posted:
We've come close enough to the target of 100 figures for me to commit to production.
As long as everyone that has committed follows threw with the deposit I will commission the figure.
Here is what you will receive:
One Johnny West figure, assembled. Body in charcoal gray. Painted head with brown hair.
One set of cowboy soft accessories in deep teal.
One set of cowboy hard accessories in a pewter color.
A 50th anniversary certificate signed by myself and Terri Lynn Coop
A box with 50th anniversary and suitable artwork on the box top. The label will be in the form of a vinyl decal.
The cost per figure will be $50 plus actual shipping cost from California to wherever to are.
I'd like reaffirmed commitment one last time now that colors have been decided. After we determine that all are still on board. I will ask for a $25 deposit per figure. Once I receive the bulk of those deposits I will pay the factory and get on the production schedule.
Currently the schedule is only about a week out.
I will require the other $25 as well as shipping cost from Ca. Before I have them shipped from the factory in Mexico. If for some reason the project should get canceled, for instance if a large number of people don't send a deposit. I will promptly refund all those that have paid.
So one last show of hands and we will proceed with the limited edition, 50th anniversary Johnny West.
On the 18th of January, James and I started recording who wanted the figure set. We used the Marx Action Figure Collectors Group on Facebook as our primary means of communicating.
On the 19th we started the great color debate:
On the 21st of January, the Certificate was created by Mark Keach
On the 23rd I sent James the box art and he posted it on the group page for comments. It was an instant success and we decided just to do labels for the front on bottom box end to keep costs down and make processing a little easier
That is also when James confirmed that they would leave the accessories on the runners/sprue. I really pushed this idea as it is the way the figures came 50 years ago... So happy he was able to do this.
On the 29th we chose the box. Couldn't get a coffin box made because of the high cost, so we went with the tabbed mailer box design which was very close in size to the original Marx mail-order / shipper boxes.
On Feb 12th James chose the grey color for the figure based on pictures from the factory in Mexico.
On the 6-7th of April the box decals were printed
April 16th, 2015, James posts:
Three of the four boxes of the first shipment of 50th anniversary Johnnys just arrived.
The graphics guy says I should have decals tomorrow or Saturday.
I'll post a few more photos shortly, and then more as soon as I have the decals and can show him as he will enter your collections. 3rd week of April figures started to arrive at homes across the US and Canada
On May 12th, Jase Marshall of Marshall Made Collectibles posted his Video Review and Unboxing of Johnny .


Then he made a wonderful trailer like movie for Johnny: West Meets West

I got my 50th Johnny within a few days and posted this review on FB:
50th Johnny Review
. Well, I got my big box of 'stuff' from James Wozniak. Even though I was heavily involved in the creation of the 50th Anniversary Edition of Johnny, I thought I owed an honest review.
First and foremost, WOW! I really do like the way it turned out. The figure and soft accessory colors aren't really what I expected. Instead of the dark grey the body has a purple cast to it and instead of a blue teal, the accessories are much more green. I'll chalk that up to the factory not really 'caring' if they matched the pantone colors. That being said, they do look good together and are unique in the Johnny world.
The hard accessories are not silver but not a dark pewter either, again a nice different color that really can't be confused with vintage or CXR. They also appear to be a little 'softer' plastic, which I like and think would be a good formula for the Sam accessories.
The added bonus of the yellow cav scarf and gloves just tops it all off.
Having everything on the runners gives that 'new toy' feel I just love.
Since I did the graphics and chose the box I'll leave that to someone else to review. (but I like them ).
The COA is a nice touch and cements this piece in the JW history.
All in all, a great big success! Well done James and Jean Zabre.
For anyone who cares I got numbers 41-50. I'll keep at least numbers 49 and 50 for myself. The others are already sold.
---
Museum Display
After the Marx Toy show in 2014, Jimmy, the curator of the
Kruger Street Toy and Train Museum
(host of the toy show), asked if I'd be interested in setting up a display on the 3rd floor of the museum to celebrate Johnny's 50th.
I was THRILLED, and spent many months planning the display and on the 29th of May 2015, Brian and I drove up to Wheeling and spent the day setting everything up.
During the Toy Show this year I was asked to give a brief guided tour the display for attendee's. That went off well and Rudy and Mel recorded it... Once I get the recording, I'll post the video here... Until then, go see the display live and in person... It is open now until December 2015.
Here is the video of my guided tour, thanks to Rudy and Mel!
---
Travelling Johnny
The
Official Marx Toy Museum
also had some Johnny celebrations planned during the toy show. To spark interest for their project Glenn and Suzanne posted this on the FB group:
Over a DECADE ago
, some of you will recall, the Circle-X Ranch group on Yahoo held a fantastic crowd-sourced event called "Johnny Hits the Road" that saw a well-used vintage Johnny West figure set out on an INTERNATIONAL journey that ultimately ended, about ten thousand miles later, at his birthplace -- the Marx Factory in Glen Dale, West Virginia. After a first stop at the Coops' JW infirmary for some much needed repairs, Johnny traveled the globe, making it home just in time for the Marx Convention in 2004. That actual Johnny, and all he picked up along the way -- photos of his adventures, and some pretty cool swag -- can *still* be seen at the Marx Toy Museum, in Moundsville.
NOW
, with the 50th Anniversary Johnnys shipping out, I'm pleased to announce a NEW project in the spirit of the previous one, with a little twist due to time constraints. We are asking EVERYONE who receives one of the new guys to take him out to your local landmarks, and places of interest, and snap a few good photos to share with the group. Going a step further, the originator of the 'JHTR' event (and one of the founders of the CXR site), Suzanne Hackett-Morgan, has graciously agreed to COMPILE & CURATE photos that are submitted to her into a presentation that will be shown at THIS year's Marx Toy Convention, at the Kruger Street Museum in Wheeling, and Marx Celebration Saturday Night at the Marx Toy Museum in Moundsville. Those who want to participate should get their photos to Suzanne no later than MAY 20th. Obviously, those images can be posted here, too (perhaps waiting til the Convention weekend!?).
Please post any questions below, or contact me, or Suzanne directly by PM (private message function).
Suzanne requests photos be in 300 dpi resolution, and NO LARGER than 5 MB each. I believe they can be sent to her thru the group page, here, via PM -- we will eventually post them to a photo album on this site, but I think it would be fun to hold them as a surprise until the weekend of the convention -- see what everyone sends in all at once.
(Thanks to Steve for the shot of his new 50th Anniv. Johnny! ) - Glenn
---
This resulted in this movie:
Download:
Johnny On the Road!
As well as a dinner at the Official Marx Toy Museum that night, Francis and Jason, et al. Provided other great quality entertainment.
Grayson and Lee unveiled their custom Johnny West Circle X Ranch playset! The ranch house, box and graphics were all custom originals with some other playset figures put in to round out the set. Even came with Character figures of Johnny, Jane, Chief Cherokee and Flick & Flack. Lee and Grayson based their custom on actual museum photographs of a prototype playset Marx was considering... Watch this space for more on this set later. You can also see more pictures of this reveal in our Johnny SlideShow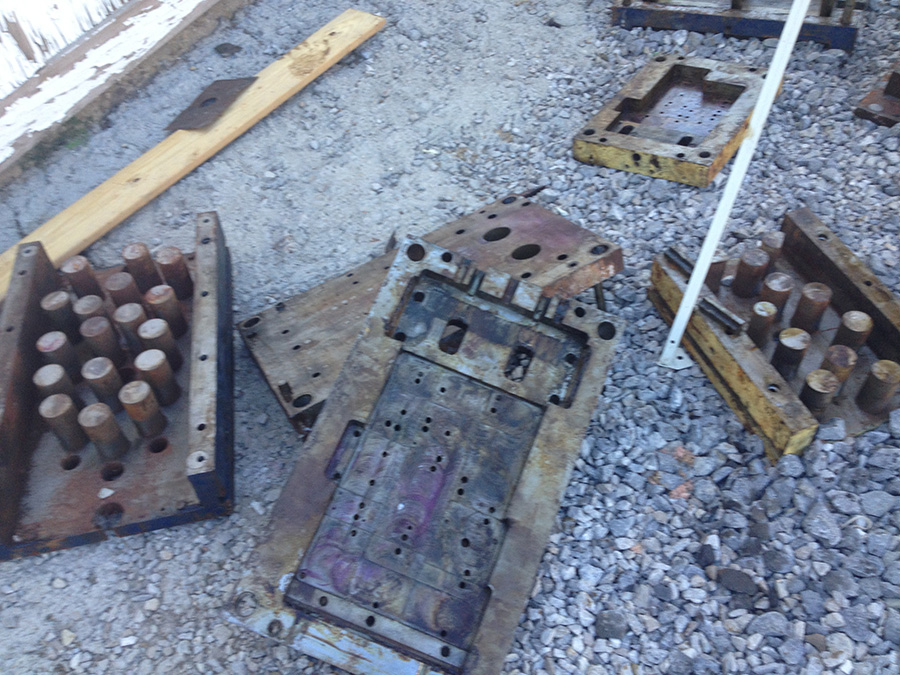 Mold Saga Movie Before we broke for the Marx sale Francis put on, Jason put on the video Tiffany filmed of Tom, Jason and I breaking apart the Girl From U.N.C.L.E. molds. I will be posting the movie in a while... Have to learn how to edit the raw footage to a single 10 minute video I can up load to YouTube.

Until then you can read about it here: Girl from Uncle mold saga

Also you should read the PopCult article by Rudy Panucci "The Marx Toy Convention Was A Hit!"

---
The Marx Convention and Toy Show Slideshow
Getting pretty big, so I put it on its own page:
Johnny SlideShow
If you have Pictures from the Convention and would like me to include them in this slideshow, please email them to
scott@stewartsattic.com
---