Fantasy Box Art
Just for fun! I created these fantasy box art images for items that I think Marx should have made in the hey-day of the Johnny West line of toys. These images are strictly for entertainment and should not be reproduced or sold in any fashion.
If you have an idea for an addition, let me know, Thanks!
Click on images for a larger version
---
High Noon - Cowboy
A new line of figures! The "High Noon" series will bring you these exciting figures: Cowboy; Rancher; Outlaw; Rustler; Sheriff and many more to come!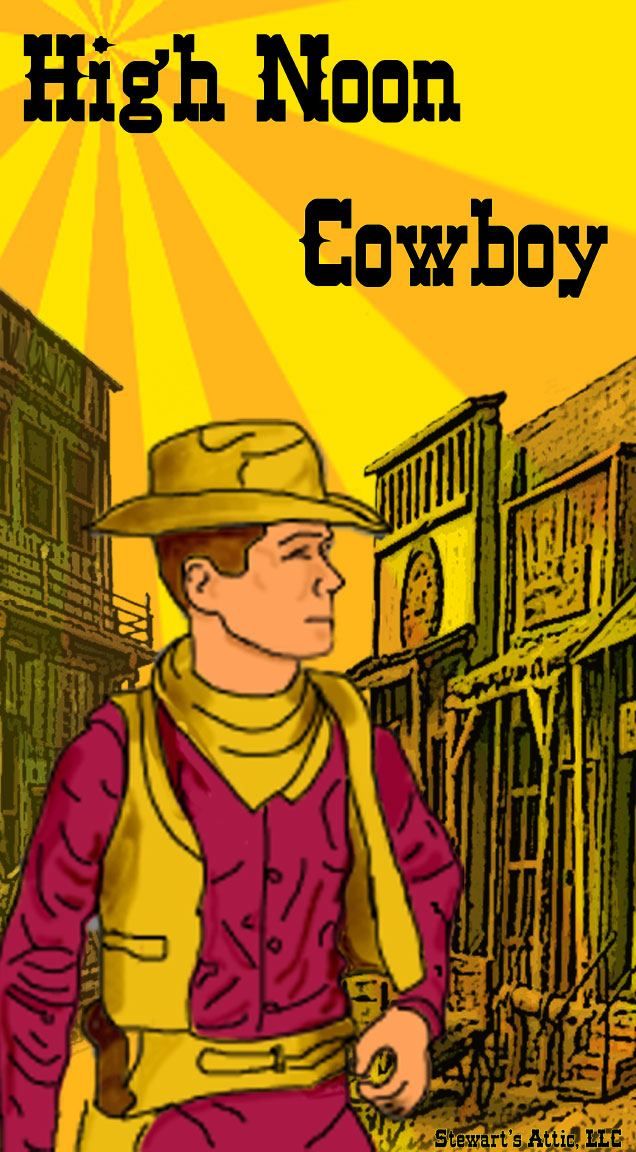 ---
Mingo
I have always thought that Chief Cherokee that came out in 1964 was actually patterned after the character 'Mingo' in the popular Daniel Boone TV series. Actor Ed Ames played this supporting character throughout the series run. In one episode, the Cherokee Chief is mortally wounded and on his death bed he makes Mingo 'the Chief of the Cherokees' while his son is away.I put Mingo on the Daniel Boone box art since he should have been issued shortly after Daniel in 1964. 'Fantasy Marx' realized that the non-articulated version of Daniel was not being received very well in the market place so they retooled the figure body and made Mingo fully articulated.



---
Rebecca Boone
Rebecca Boone would have been the first character issued under the new Boonesborough Fighters series by 'Fantasy Marx'.Rebecca's accessories included 2 changes of clothing (one for the cabin featuring a floor length dress and apron), the other for the woods (including buckskin jacket). Also included in the set is a Flintlock rifle, Coffee Pot, Frying Pan, Coffee Cup, Hair Brush, Cooking Kettle, Campfire and Blanket.Also in the Boonesborough Fighters: Yadkin, Cincinnatus, Jamima & Isreal Boone, Gabe Cooper, British Redcoat and Shawnee Warrior.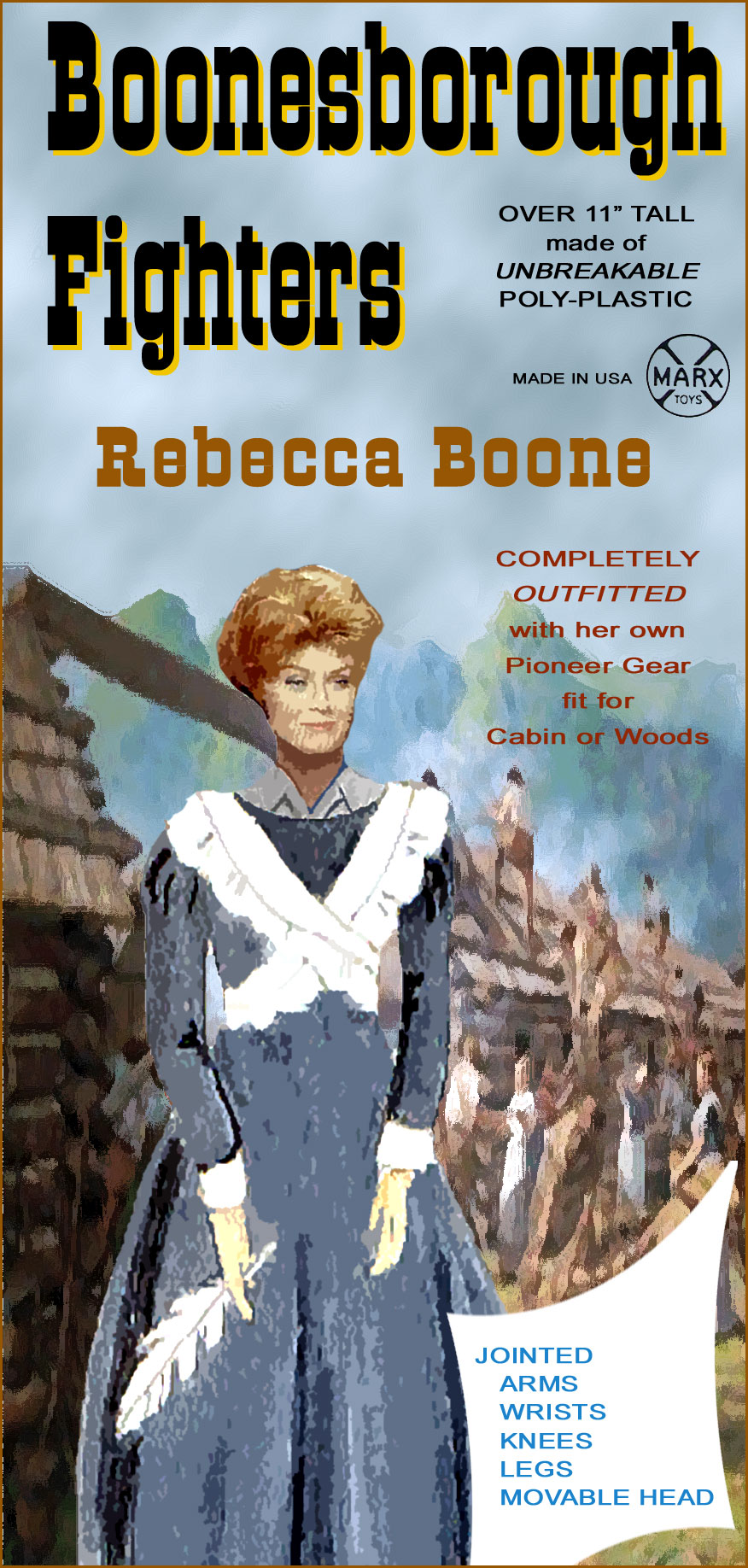 ---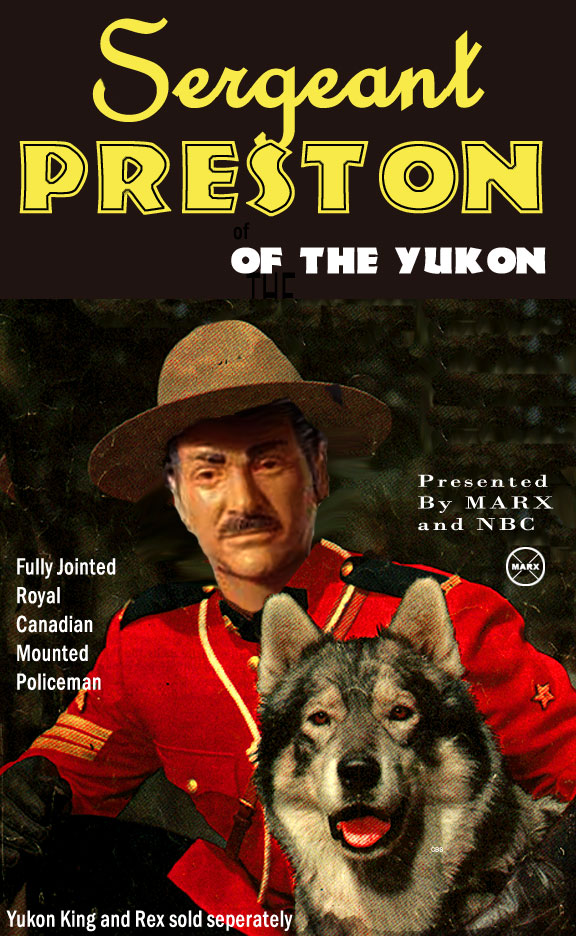 Sgt. Preston
Sgt. Preston of the Yukon was one of my favorite TV shows. I loved Yukon King (his dog) and his horse Rex. Sergeant Preston played by Richard Simmons was wonderful. The show originally aired for 78 episodes from 1955 to 1958. It was later rebroadcast in the 60's when I saw it.
'Fantasy Marx' figure could have used a crimson body mold with the Sheriff Garrett head sculpt. His accessories could have been Hat, lanyard, Sam Browne belt, pistol, rifle, snowshoes, winter coat and hat, and handcuffs. Flack could have been repackaged as Yukon King and Thunderbolt could have been repackaged as Rex with authentic RCMP tack set.
---
James T. West
Not too far fetched I think.... Marx did try to secure the licensing agreement with CBS in 1965-66 for the James West figure. Unfortunately they failed and the body mold and most of the accessories resurfaced for Sam Cobra. The head sculpt of Robert Conrad went on to Capt. Maddox and Cowboy Kid.
Here's my concept of what the box art could have looked like for this figure.